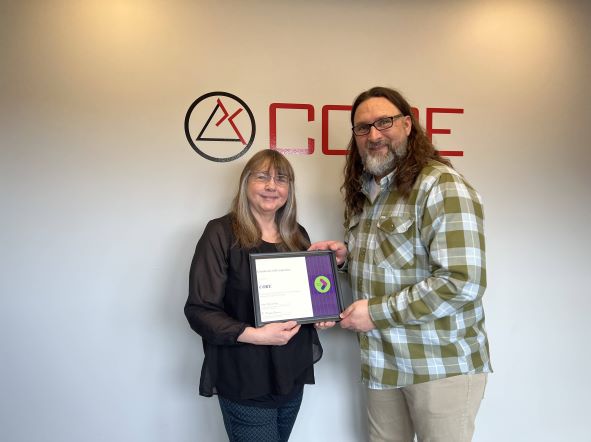 When you walk through the doors at the Communities of Recovery Corporation, or CORE, you immediately feel like you are more at home than you've ever felt in any business. The building is large, and there are lots of employees and clients in the halls and classrooms. In spite of its size, the staff functions like a family, and there is a level of support and respect that is often hard to find in today's world. Everyone greets everyone with a smile, and you immediately feel as though you are in a welcoming environment where people are genuinely happy to see you. On March 2, 2023, CORE became the first recovery program in the state to earn the Recovery Friendly Workplace designation.
Approximately 27 years ago, four Branson families joined together to address homelessness in Branson and Taney County. Because much of the work in Branson is seasonal and employers close their doors during the winter months, employees were left without an income, and many became homeless. The efforts of the four families led to a ministry that addressed the homelessness problems and issues facing people effected by substance use disorder.
As a result, CORE (Communities of Recovery), began with one home and has grown to 20 residential facilities housing between 10 and 15 residents each, depending on location, including two recovery centers, one in Branson and one in Springfield (80 clients in Springfield), and 42 employees, all who are in recovery. CORE also offers two thrift stores, one in Branson and one in Hollister. One of the stores does content liquidation from businesses in the area and provides household items and supplies to anyone in need, as well as having items available for purchase.
A Board of Directors, made up of some of the community's most influential members, oversees CORE. Peter Herschend, who co-owners Silver Dollar City, serves as the board's Vice-President. James Ziegler is an employee who serves as the Director of Development. Ziegler understands the true value that CORE brings to the Branson and Springfield communities, and the neighboring small towns. "This program really helps the public understand substance use disorder. For so long it was always something that happened to other people who lived on the other side of the tracks, and we didn't have to worry about it…Today, it's happening to everyone, and there's hardly anyone who hasn't been affected."
CORE has enjoyed outstanding partnerships within the community, to promote the health and well-being of its employees and clients. One of its strongest partnerships is with Cox Health, a six-hospital, 1,050 bed health-care system serving a 25-county region in southwest Missouri and northwest Arkansas, with 12,605 employees. Cox Health is a level one trauma center, which is the highest rank available through the Missouri Department of Health and Senior Services.
Cox Health's "HAPPY Life" program, which was offered through a grant to CORE participants and staff, is just one way that CORE demonstrates its commitment to the health and well-being of each person. The program features information on healthy life choices and how to engage an increasingly complicated health care system. It came about because of CORE's partnership with Cox Health under the Expanding Coverage Initiative funded by the Missouri Foundation for Health. The Grassroots Outreach program, which is an extension of the partnership, offers support to the recovery community, in an effort to improve the health and well-being of people with a substance use disorder.
Some of the participants of the CORE/Cox Health partnership programs have gone on to become contributing employees. One participant noted that "This is not some place with counselors who never lived (through what you are going through). The have struggled (with substance use disorder) too. You come into CORE surrounded by staff who were once there too, and they have recovered."
Ziegler, the Director of Development, says that employees in recovery are some of the most successful employees in a business. "Dependability, the fact that they are happy to be doing what they are doing. When someone is in recovery, they are grateful for every moment. People in recovery live bravely, they're hard workers and they are dependable. So, do we want to hire people in recovery? We know their value, and we absolutely do."
CORE CEO Cary McKee understands the value that being a Recovery Friendly Workplace brings to an organization. "People who are recovered generally get counted among an organization's most valued employees. That's why local businesses recruit from CORE. So, when I learned about the recovery friendly initiative, I knew this was something we wanted to support. Recovery friendly isn't just good business. Not only are employers maximizing their bottom line, but they're also supporting their people and doing something good for society. It's a win-win situation for the business owner."