When we think about substance use, we may tend to think about illicit drug use specifically, but the truth is, some of the more prevalent, legal drugs can be cause for serious health consequences; both in the short and long-term. In youth populations, e-cigarettes or vaping is a major cause for concern.
General information:
E-cigarettes come in many forms, including USB- rechargeable, disposable, tanks, and other. See the many forms below. Some forms are more discreet than others, and can be easily concealed.

Other names for e-cigarettes include e-juice, JUUL, vape pens, and HTPs (heated tobacco products).
The problem:
In youth, vaping has been deemed an epidemic, with rates rising around 10% between 2017 and 2018 alone in the US (2). Recent survey data suggests 1 in 10 middle and high school students use e-cigarettes; with roughly 25% of those using e-cigarettes on a daily basis (3). Using e-cigarettes or "vaping", is dangerous and can cause short- and long-term health ramifications. E-cigarettes are generally a lower cost product than traditional smoking, but most (99%) contain nicotine along with other additives that are harmful to the lungs (4, 5). Nicotine is known to cause developmental issues in the developing brain of youth, and some data suggests as much as 2/3 of youth using JUUL e-cigarettes do not know they contain nicotine at all (1). E-cigarettes can be used to inhale marijuana and other drug products as well.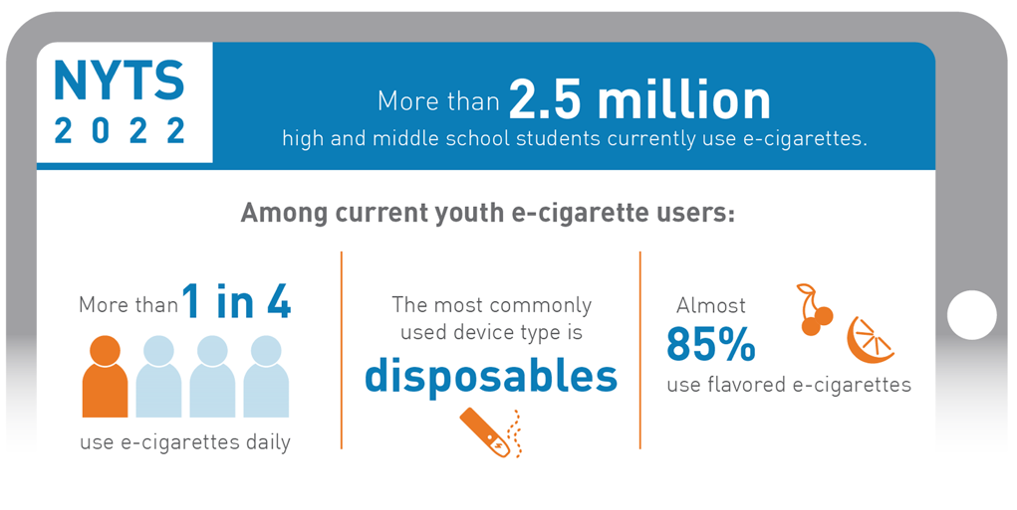 Potential short-term consequences
Very common and concerning short -term health consequences of vaping include coughing, shortness of breath, eye irritation, headaches, throat irritation, dry mouth, and nausea (6). Vaping could also have an impact on youth depression or cause other mental health concerns, even though teens have reported turning to or continuing vaping to ameliorate stress (7).
Possible long-term ramifications
Long-term effects include the development of unhealthy coping mechanisms to stress rather than healthy ones (this could track into adulthood, causing other unhealthy habit cycles), developing addictions like smoking combustible cigarettes and other substances, and lung damage, along with other unknown consequences (4).
A major long-term concern is the impact of nicotine on brain development. We know the human brain doesn't fully develop until the age of 25, and using substances before this point can harm that development.
Additionally, sweeter flavors of e-cigarettes tend to appeal to a younger demographic, with 84.9% of youth reporting using e-cigarettes utilizing flavored options. These flavors (especially fruit flavors) make it more likely these individuals will begin using younger and develop a life- long habit (8, 9). These flavorings, the compounds used to create them and their corresponding degradants and effects of those degradants are unknown.
When addiction and dependence result and the individual stops using, withdrawal symptoms can occur like irritability, cravings, feeling anxious or depressed, inability to sleep, and problems concentrating (10).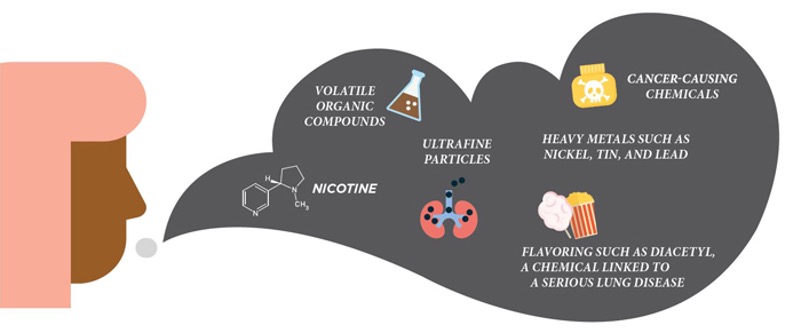 Potential Solutions:
Potential solutions to this problem include educating youth on the harmful effects of vape pens and their components, encouraging student-led efforts, and trying to equip young people with healthy coping strategies to stress, like physical activity, talking with others, journaling, or counselling.
On a larger scale, holding larger tobacco companies accountable for the effects (financially and otherwise) of their products and putting restrictions on marketing of products targeting youth and mounting large tobacco free campaigns like "The Real Cost" could likely have the largest widespread effect (11).
Myths and facts:
Myth: The vapor from e-cigarettes is water vapor and is harmless. Fact: The mist is composed of nicotine and can contain formaldehyde, and other products like flavorings that are harmful for lungs (1). As the contents are heated, components in the liquid transform into unknown chemical degradants that could have unknown health ramifications.
Myth: E-cigarettes are a safe way to help someone quit smoking. Fact: No vaping/ e-cigarette products have been determined as safe ways to quit smoking.
For safe options, visit https://findtreatment.gov/.
Centers for Disease Control. (10 Nov, 2022). Quick Facts on the Risks of E-cigarettes for Kids, Teens, and Young Adults. https://www.cdc.gov/tobacco/basic_information/e-cigarettes/Quick-Facts-on-the-Risks-of-E-cigarettes-for-Kids-Teens-and-Young-Adults.html?s_cid=OSH_emg_GL0003&gclid=Cj0KCQjwnMWkBhDLARIsAHBOftp-WxgvLuZCxr33KGt_oBH0i7TAvY0c03heXXVz4z72HzukvQfaRx8aAoqWEALw_wcB#prevent-my-child-from-using-e-cigarettes. Accessed 20June2023.
Zainab, et al. The Adolescent Vaping Epidemic in the United States – How It Happened and Where We Go From Here. JAMA Otolaryngology – Head & Neck Surgery. 2019 Aug 22; [PubMed] [Google Scholar] [Ref list]
Food and Drug Administration. (2022) Result of the National Youth Tobacco Survey. https://www.fda.gov/tobacco-products/youth-and-tobacco/results-annual-national-youth-tobacco-survey. Accessed 20June2023.
Marynak KL, Gammon DG, Rogers T, Coats EM, Singh T, King BA. Sales of Nicotine-Containing Electronic Cigarette Products: United States, 2015. Am J Public Health. 2017 May;107(5):702-705. doi: 10.2105/AJPH.2017.303660. Epub 2017 Mar 21. PMID: 28323467; PMCID: PMC5388940.
American Lung Association: E-Cigarettes & Vaping: What Teens Should Know. https://www.lung.org/quit-smoking/helping-teens-quit/what-teens-should-know. Accessed 20June2023.
Cleveland Clinic. (2022). Vaping (E-Cigarettes). https://my.clevelandclinic.org/health/articles/21162-vaping. Accessed 20June2023.
Gentzke AS, Wang TW, Cornelius M, et al. Tobacco Product Use and Associated Factors Among Middle and High School Students — National Youth Tobacco Survey, United States, 2021. MMWR Surveill Summ 2022;71(No. SS-5):1–29. DOI: http://dx.doi.org/10.15585/mmwr.ss7105a1external icon.
Cooper M, Park-Lee E, Ren C, Cornelius M, Jamal A, Cullen KA. Notes from the Field: E-cigarette Use Among Middle and High School Students — United States, 2022. MMWR Morb Mortal Wkly Rep 2022;71:1283–1285. DOI: http://dx.doi.org/10.15585/mmwr.mm7140a3.
Park-Lee E, Ren C, Cooper M, Cornelius M, Jamal A, Cullen KA. Tobacco Product Use Among Middle and High School Students — United States, 2022. MMWR Morb Mortal Wkly Rep 2022;71:1429–1435. DOI: http://dx.doi.org/10.15585/mmwr.mm7145a1.
U.S. Department of Health and Human Services. Smoking Cessation: A Report of the Surgeon General. Atlanta: U.S. Department of Health and Human Services, Centers for Disease Control and Prevention, National Center for Chronic Disease Prevention and Health Promotion, Office on Smoking and Health, 2020 [accessed 2023 June 20].
United States Food and Drug administration. (2023). FDA Launches New Campaign: "The Real Cost" Youth E-Cigarette Prevention Campaign. https://www.fda.gov/tobacco-products/youth-and-tobacco/fda-launches-new-campaign-real-cost-youth-e-cigarette-prevention-campaign.