Our Recovery Friendly Workplace team has an exciting opportunity coming up this August. On August 10, we'll be hosting another community event to bring together key stakeholders, businesses, and individuals to gather, share stories, and learn more about our efforts, both past and future. Recovery Friendly Workplaces: Reimagining Today's Workforce, will feature individuals who are currently in recovery, businesses who have undergone our Recovery Friendly Workplace Designation, and other key players.
This one-day conference is the culmination of the efforts of the first three years of the statewide Recovery Friendly Workplace initiative and offers a look towards the future as we expand across Region 7: Missouri, Nebraska, Iowa, and Kansas. It is also a call to action to use storytelling to change lives. You will hear from a three-time Olympic gold medalist who shares a compelling and heartwarming story of her road to recovery from substance use disorder and have an opportunity to attend a session led by a National Public Radio producer who will highlight the value of shared stories in dispelling stigma, while teaching dynamic storytelling elements that help to dispel the assumptions we make about individuals. Our closing keynote will take you on a storytelling journey of embracing change, conquering fear, and experiencing setbacks. The speaker will share the lessons learned after taking major leaps in life and how her stories have changed others' lives, changed people's perceptions of who they thought she was, and empowered many to take their own leap.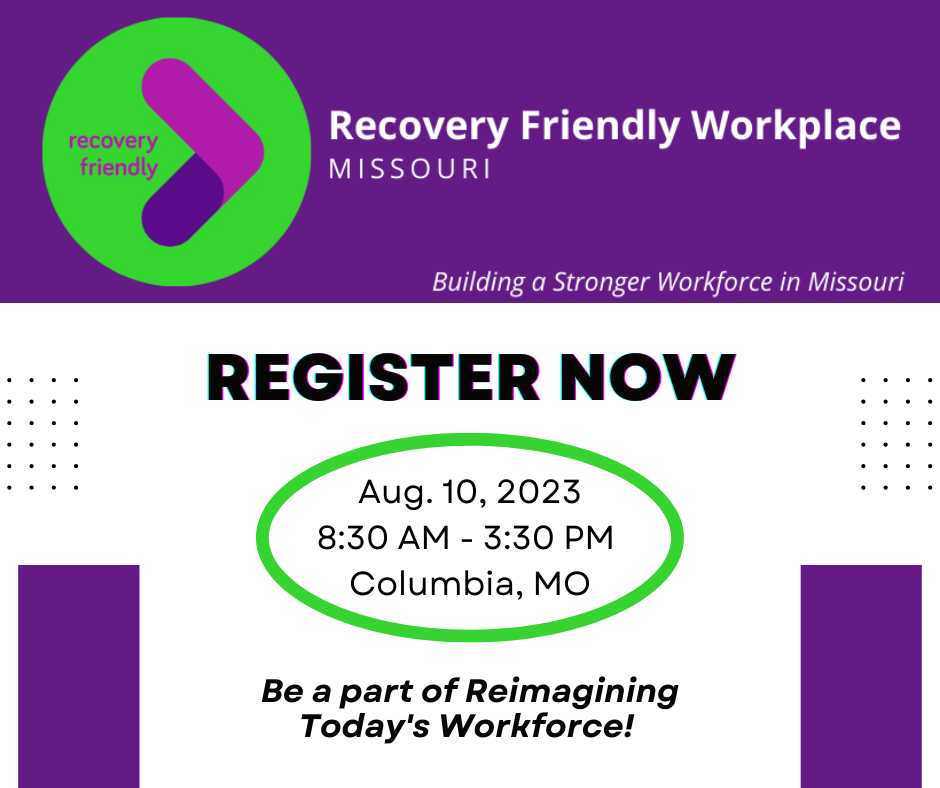 There will be both virtual and in-person options to attend this event. Our planning committee would love to extend an offer to you to attend. There is no charge to register. This conference is for business leaders and HR managers who hire and oversee individuals in recovery, social service agencies, and local change agents. People interested in learning more about what Recovery Friendly Workplaces are, our designation process, or how we envision our future workplaces are welcome to attend.
What to expect:  8:30 AM – 3:30 PM on August 10 at the Hampton Inn Conference Center on the University of Missouri campus in Columbia.  There is an online option for those unable to attend in person. There will be food, good stories, and good company. Come ready to learn and share! We want you to be a part of this event.